Dogashima Islands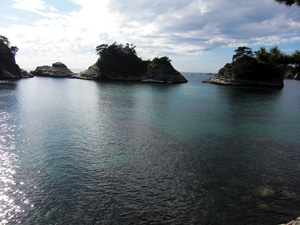 This area is dotted with rocks and islands wonderfully shaped by the saw-toothed coastline. The sun setting in the vast expanse of the sea is an indescribably romantic scene.
Koganezaki Cape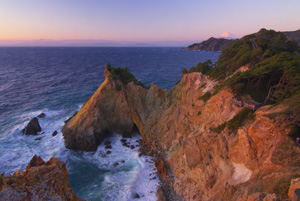 This is one of the most recommended scenic spots. Many tourists are impressed by the view of the quay illuminated by the evening glow and the sunset over the sea. In addition, this place gives you a delightful view of Mt. Fuji on a clear, sunny day.
"Tombolo" at Dogashima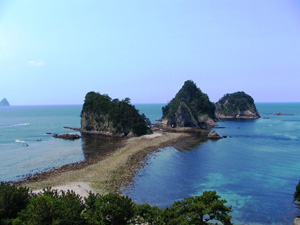 Experience a "tombolo" (tidal island), which is an uncommon phenomenon worldwide, in which the Sanshiro Island is connected with the coastline by a 30-m-long stone bar at low tide.
Dogashima Tensodo Cave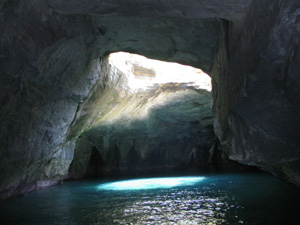 Tensodo is a cave with a circular opening on top. Sunlight streams in the dark cave through the naturally made "skylight," creating a mystic reflection on the surface of the cobalt blue sea.
Koganezaki Collection Garden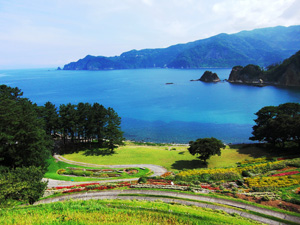 This is a flower garden where a wide variety of flowers bloom from season to season, such as rape blossoms, cherry blossoms, and hemerocallis, with the calm jagged cove in the background.
Nishi-Amagi Kogen Highlands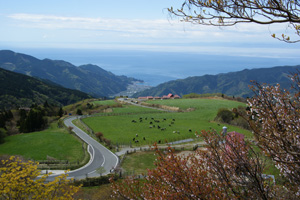 Cattle graze on the refreshing Nishi-Amagi Plain 750 meters above sea level - a rarity in the Izu region. The Nishi-Amagi Highlands command an impressive view of Suruga Bay on a clear, sunny day.